1969 Honda CB350K1: Unregistered US Import
View on eBay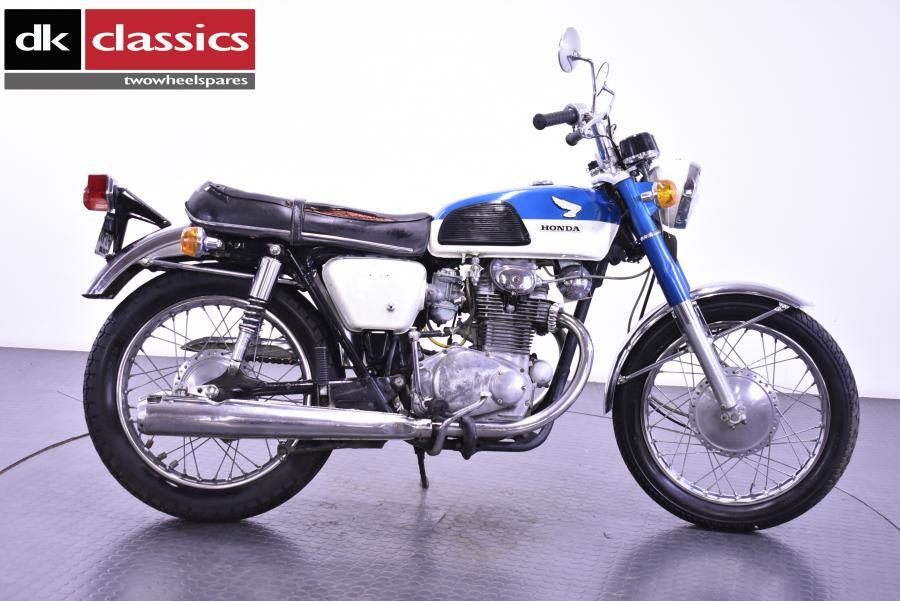 1969 Honda CB350K1: Unregistered US Import
This is a 1969 Honda CB350K1 Supersport that has recently been imported from North America, where it has spent its entire life. It is tax and MOT exempt and is showing 3656 miles, although we have been unable to confirm this mileage reading. The bike has been in dry storage for a considerable amount of time, which has helped maintain its good condition.
As you can see from the pictures, the bike is nearly complete, missing only the battery. It has been standing for a while, so the paintwork is faded, the tires and seat cover are perished, the tank is mucky inside, the carburetors are stuck, and the clock faces are faded.
However, the good news is that this is the actual bike you are bidding on, and it is every bit as nice as it looks in the pictures. The wheels look straight with fairly clean chrome rims, good hubs, and brake plates. The forks and yokes look straight, and the mudguards are both solid. The taillight assembly is good, and the indicators are tidy. The chain guard is also tidy.
The engine is cosmetically clean, turns over nicely off the kick starter, and sounds and feels great. But best of all, when we hooked it up to a good battery and fed it fresh fuel, gave it a few prods, it fired up, started, ran, and revved. If you require any further information or more pictures, please do not hesitate to contact us.