1968 Yamaha YAS1C 125 Unregistered US Import
View on eBay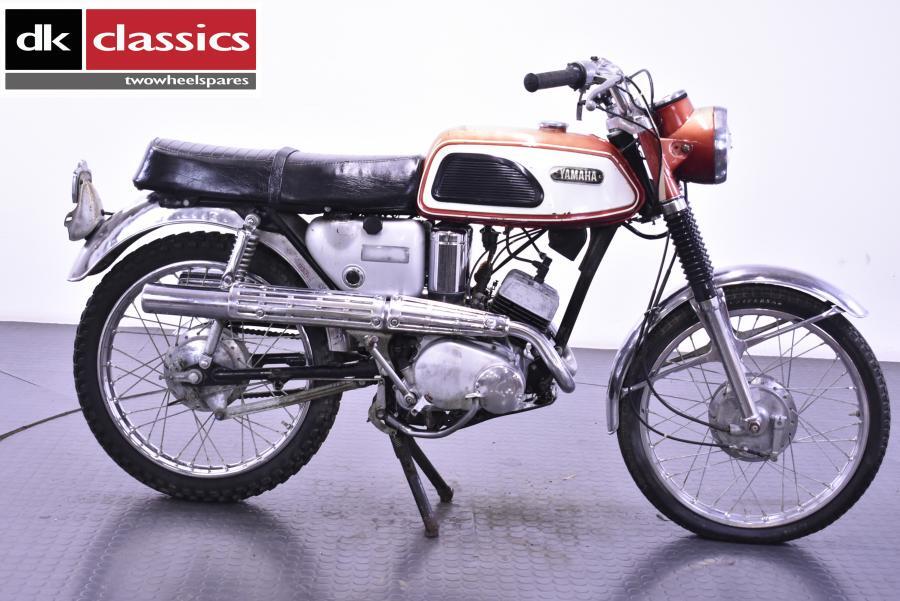 1968 Yamaha YAS1C 125 Unregistered US Import 
This classic 1968 Yamaha YAS1C 125 twin is a sought-after and well-respected motorcycle, which is now Tax & MOT exempt. It has recently been imported from North America where it has spent all its life. The bike has only done 10168 miles and has been in dry storage for a considerable time, which has helped maintain its original looks.
However, please note that we have been unable to confirm the mileage reading, so please disregard it.
If you are looking for a classic restoration project, this Yamaha could be the perfect starting point. It may be a commercial venture or just a hobby interest, but it all starts here!
Please check out the pictures to see the bike's condition. As you can see, there are a few missing parts, including the battery, side panel, mirrors, tail lens, and throttle cable. The paintwork is faded, and the tyres and seat cover are perished. The headlight rim has taken a knock, and the wheel rims are pitted.
But now for the good news. The wheels look straight, with good hubs and brake plates. The forks and yokes are straight, and both mudguards are solid. The headlight bowl and hangers are solid, and the instruments and switches look good. The fuel tank is useably clean inside, and the exhausts are original and solid. The seat base is in good condition throughout, and the engine is cosmetically quite clean. It turns over nicely off the kick starter and sounds/feels slightly low on compression. It is sparking, but we haven't had it running.
Please note that this is only a brief description. If you are placing a bid based on parts that can't be seen in the pictures being there and/or in serviceable condition, or if you require any further information or more pictures, please do not hesitate to give us a call or message us.
eBay item number: 334794861763