1968 Lambretta Eibar Li 150 Special Chrome Ring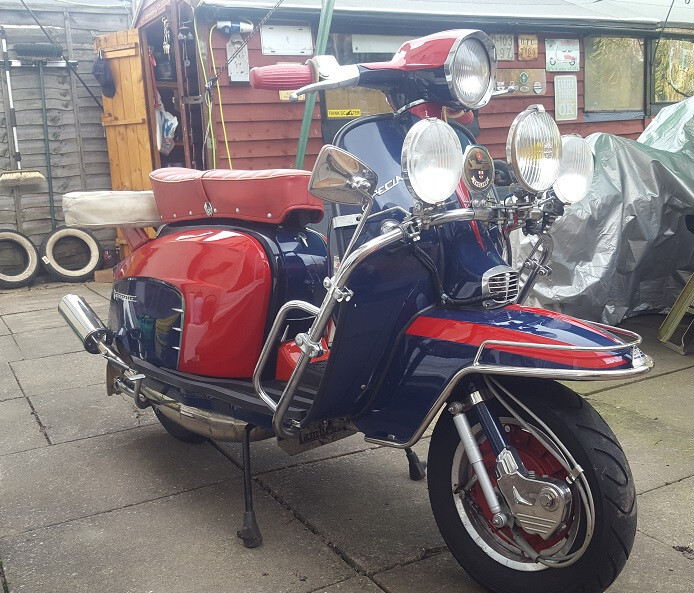 1968 Lambretta Eibar Li 150 Special Chrome Ring

For sale is a Lambretta Eibar Li150 Special Chrome Ring from 1968, imported from France in 2016 and restored using quality parts. It was first registered in the seller's name in November 2017 and comes with a NOVA certificate, V5, and LCGB dating certificate. It's classified as a Historic Vehicle and is tax and MOT exempt.
The scooter has had an older restoration, and the paintwork is slightly faded with a few chips. It's not a show scooter, but it's in good condition and built for riding. It starts after 5 kicks and has been recently serviced with a new spark plug and oil change (Rock Oil SAE 90).
Features include an RT 195 kit, SIP 58 x 107 GP crankshaft, original 150 gearbox, Taffy Style Expansion Exhaust, Dellorto 30mm carb, Readspeed Lukas Lambretta Pro CDI, BGM Stator, 3 x SIP Tubeless Brushed Alloy Wheels, 12 Volt AC Electronic Loom and Ignition, 4 Pole regulator (Battery Trickle Charge Connection), Auxiliary 12v Motorcycle battery, 3 x Working Spot Lights individually switched, Chromed POLI Air Horns (12v Compressor), USB Charger and Volt Meter.
The seller will not accept offers below the starting price and no dreamers, schemers or tyre kickers, please. Cash only sale or bank transfer, and the seller requires a £200 deposit from the winning bidder. Free delivery is available within a 20-mile radius of the seller's postcode, and anything outside this radius will cost £1.50 per mile.
If you need more information, you can contact the seller via eBay (Contact Seller). Good luck with your purchase.