1968 Genuine Italian Lambretta SX200
View on eBay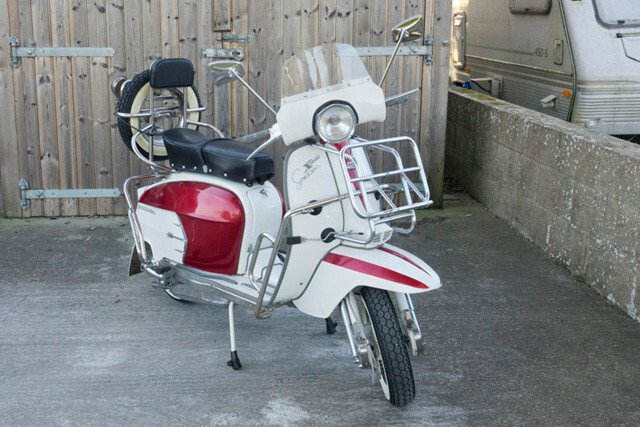 1968 Genuine Italian Lambretta SX200

Here is a once in a lifetime opportunity to own the ultimate Mod Scooter, the Lambretta SX200.
This is a genuine Italian SX200 registered in 1968 and has been professionally restored by Alan Gomme and his team at Medway Scooters in Rochester, Kent, who have specialized in scooter sales and restorations since the 1960s.
The restoration was completed on 20/01/2018 and the scooter was completely stripped to the bare frame before being rebuilt and refurbished to as new condition. The engine was also completely stripped and rebuilt to as new condition by Alan's team.
For safety and reliability, it has been upgraded to 12v electronic ignition. The scooter has less than 600 miles on the clock since being rebuilt by one of the most experienced teams in the country.
The frame and engine numbers are both SX200 8+++++, which identifies that it is an Italian built SX200 with original frame and engine. It is finished in stunning metallic red and white.
The scooter has been serviced and MOT'd every year and is in superb showroom condition. It has been kept in dry conditions and has less than 100 miles since restoration.
Unfortunately, ill health and other circumstances have prevented me from riding it, so I'm forced to sell my dream scooter. No expense was spared in the restoration, and the scooter is both reliable and a great ride.
The specification includes polished stainless steel rims on the front, rear, and spare wheels, chrome front dampers, chrome fork covers, chrome floor extensions, chrome crankcase cover, and chrome exhaust. It also has a polished stainless steel rear carrier with spare wheel, badge bars, and backrest, flyscreen, 2 mirrors on long stems, front carrier, front and rear crash bars all in polished stainless steel, white wall tyres, and a red & white chequered mud flap.
The chromed and polished stainless steel parts and accessories alone cost £2,000.
Also included in the sale are an Oxford Nemesis Classee SRA padlock with 2 metres of chain (cost £150), an Oxford HD padlock with 1.4 metres of chain (cost £100), a classic rigid bag to fit on the rear carrier, an Oxford waterproof scooter cover, and 2 Lambretta tool kits.
The scooter has just had a full service and includes a full year's MOT. The V5C registration document is included.
This is a terrific bargain, as the scooter was independently valued by both Carole Nash Classic Insurance and Hagerty Classic Insurance with an agreed replacement value of £15,000. Documentary proof is available if required.
This scooter can only increase in value! If you have any questions, please don't hesitate to call me, Barry Bristow.
eBay item number: 304841205251