1968 BSA Spitfire A65S
View on eBay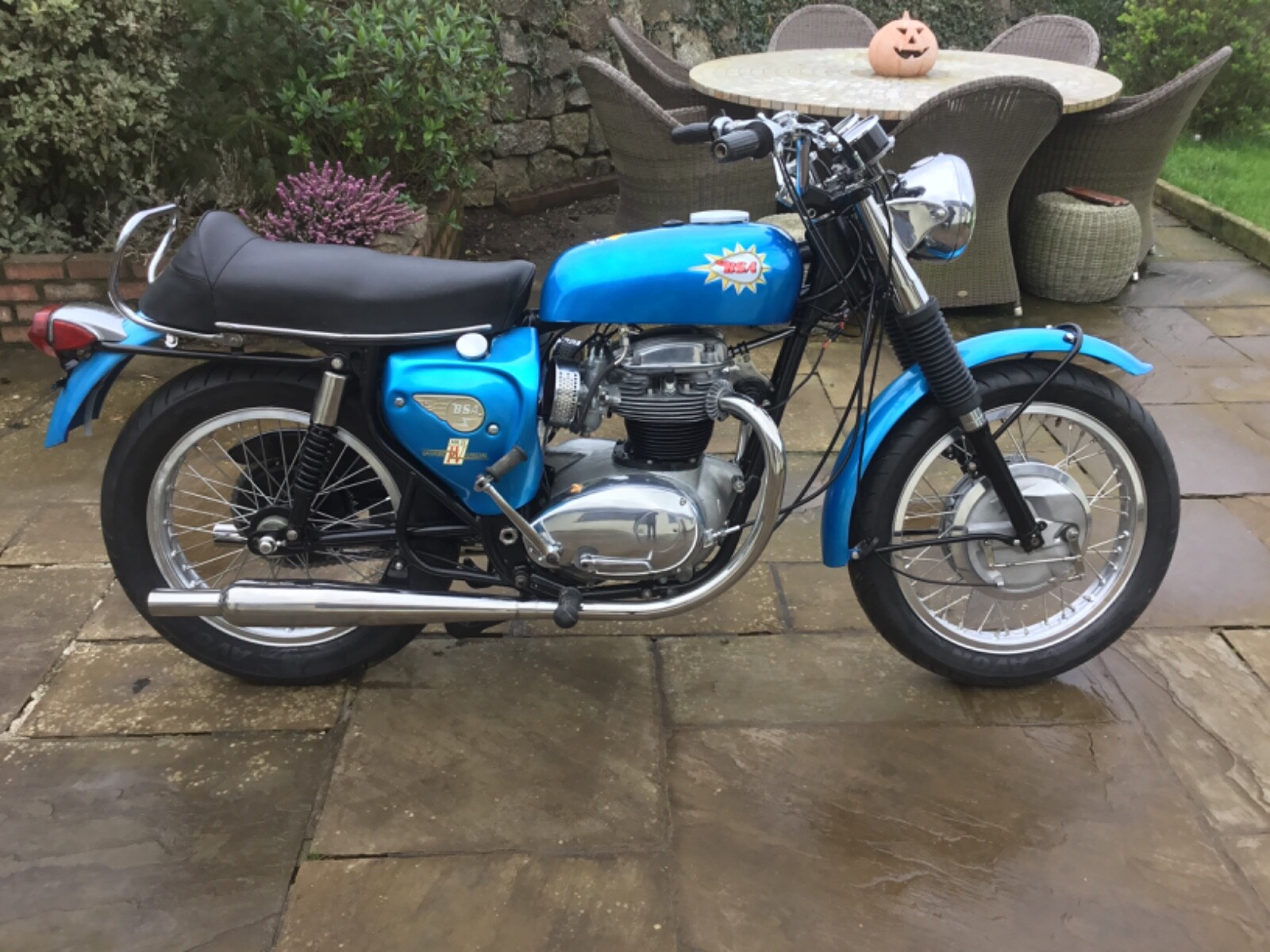 For sale is my beautiful MkIV Spitfire that I imported from the USA and completely rebuilt with no expense spared, tailored to my own preferences rather than a faithful catalogue restoration. The frame was powder-coated and the original parts refurbished where possible instead of replacing with reproduction items. My choice of color was the BSA color for 1970 – flamboyant aircraft blue, as it is a Spitfire after all! I did my own spraying, so the finish may not be to your standard.
The engine was in reasonable order, but the following work was carried out: the cylinders were honed to take new original standard BSA pistons and rings with a compression ratio of 9.0 to 1, as I doubt modern fuel would cope with the original 10:1 ratio. The crank was sent for balancing at Basset Down, who were unhappy with the original rods, so I purchased a set of billet rods from Thunder Engineering, and the crank came back as in the pictures. Although notorious for vibration, it is the smoothest it could be apparently. The timing side bush was replaced with a genuine NOS BSA part and line-bored to factory spec by the best in the business. The cylinder head was treated to a fin repair and fitted with all new valves and guides, and the rest of the motor, including the clutch, was in excellent condition, probably a reflection of the low mileage.
The original Smith clocks were restored by the excellent A Pople and retain the original reading, and the headlight is the original Lucas. The wheels were unusual for Spitfires as they were chrome steel, so these were rebuilt with new rims and stainless spokes, and the hubs were refurbished with bearings, etc. The tank is fibreglass and in excellent condition, lined with Caswell's excellent product to protect from ethanol. The exhaust is all stainless steel from Armours with Goldie silencers, as I love the look and the sound.
All electronic ignition and charging via Boyer, new 32mm Amal Premier carbs, and new Avon tires complete the package. There is lots of history surrounding this model, mine being one of a batch called the 67 hybrids, where a batch of Spitfires got stuck during a dock strike in 67 and missed their export date to the USA, and were returned to the factory and converted to 68 spec before export. This shows as a double entry in the dispatch records for this bike and explains some 67 features like the side panels. All documents are available, including the V5C in my name.
There are lots more stainless steel components not listed, and the steering damper adjuster is stunning, allowing the setting to be retained while correcting the piled arms logo! Payment is cash on collection or bank transfer by arrangement (preferred). Contact details are available.
eBay item number: 304827897630
Post expires: 12-04-2023