1965 Honda S90 Rare Early Model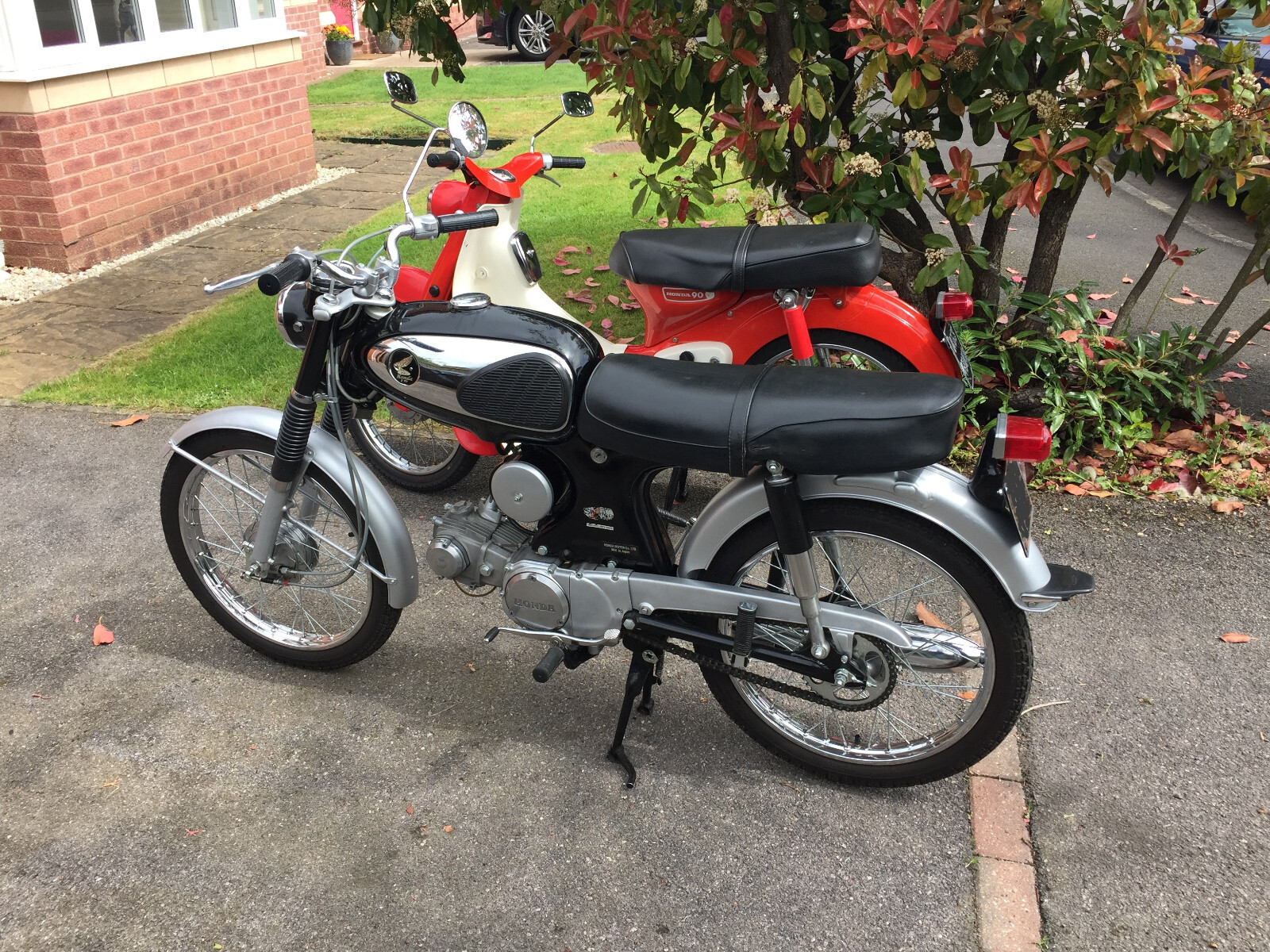 1965 Honda S90 Rare Early Model
For sale my sympathetically restored Honda s90 1965 model
very early 64/65 production model using the ohc 90cc Honda engine for the first time.. This engine went on in production through all years of the c90 from 1966.
this particular s90 was sold in 1965 from shadco honda main dealers in sioux falls south dakota.
It was imported to the uk from a motocycle dealer in swindon wiltshire in 2016 and i bought it from them in that year as i had always wanted a manual 4 speed honda 90 as my first ever bike was a honda cm91 automatic 3 speed 1966 version.
this s90 was totally complete but required a really good restoration.
i totally stripped the bike to it's component form and reconditioned eveything replacing anything worn with nos honda parts. Remarkably the paintwork now 58 years old is original on the main frame,fuel tank, air filter housing etc.
the tank is immaculate inside, the speedometer is original and probably the best condition dial face i have seen. Chrome work is all original not rechromed, handlebars are the correct honda s90 with internal throttle cable design. Fuel tank badges original as are the chrome side panels, wheel rims were replaced with brand new honda items as the originals were looking tired (originals to go with bike) new tyres and tubes and tapes. Original 18″ wheels have an odd spoke pattern that uses spokes that are no longer available so all spokes were carefully removed, polished and re zinc plated as original rebuilt into the original hubs and nos rims. The quality of the early hondas is lovely with little details like the brake arm pivots have brass bushings pressed into the aluminum castings.
Forks were stripped and rebuilt with new seals cleaned and all bushings checked for wear (none found)
Engine stripped to last nut and bolt and rebuilt with all new parts / bearings / seals.I found the engine had been overbored so i went to 104cc using a brand new piston assembly rehoned to exacting spec using the original honda light alloy cylinder barrel (only used on the early s90's)
new atv high torque camshaft sourced from usa. New valves new seals/ springs rocker arms/ gaskets etc, no stone left unturned with this engine build/ new clutch plates/ discs.
The exhaust system is in excellent original condition with the odd mark on it but no rust and it was too good to not use and so much better than an aftermarket version. The early s90's were unusual in that they utilise an exhaust header that exits the cylinder head at 45 deg against the later type that exited at 90 from 1965 onwards. Another difference with the very early type is the cranked inlet manifold/ carburettor /air box arrangement totally unique to the first year. The carb is still the original item rejetted and tuned for the extra 14cc.
It would be very easy to return the engine to 90cc if required only requiring a cylinder sleeve/piston assembly and standard jetting for carburettor.
the rear wheel sprocket is geared so it cruises at a lot lower rpm in top gear and it pulls nicely with the little extra capacity.
The seat is original, not mint as it has a tiny split i repaired that isn't in a critical area.
mudguards again are all original as is the front and rear light assemblies all retaining the correct stanley part number coding. Original rubber foot peg rubbers and handlegrips. Original wiring loom /ignition switch with identification year and part number.
300 hours of restoration time alone have gone into this bike so obviously the selling price is nowhere near what it's cost me in time and parts. The s90 was usa's answer to our suzuki ap50's or fs1e's as they could ride them at 16 like we could our mopeds so the demand for these is more in the states than in the uk. The appeal to me is it makes it that more unusual. The usa s90 was identical to the uk s90 that were sold here in the 60's apart from a slightly shorter rear mudguard on the usa model which i think looks nicer along with it's oem duckbill flap.
Post expires: 21-02-2023