1964 Superb Lambretta Eibar Winter Model Extremely Rare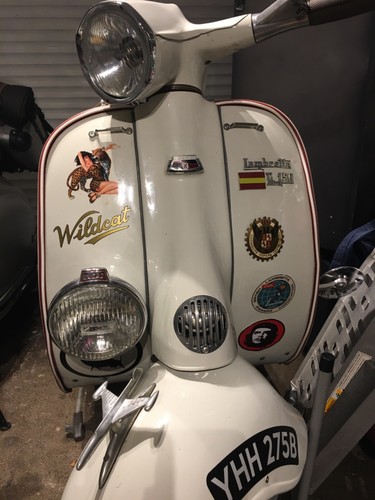 1964 Superb Lambretta Eibar Winter Model Extremely Rare
Superb, extremely rare winter model in excellent condition.
owned by artist designer; fettled by idk of 'endurance' fame.
this is a stunning bike with all the practical mods to make it a great drive. Looks and rides beautifully.
matching frame and engine numbers; bgm alloy head kit; barlow long stroke crank; 205cc; bgm clubman exhaust; bgm fully adjustable rear shock; bgm front dampers; uprated front suspension; uprated brake shoes; sip tubeless rims; dellorto 30mm carburettor; remote under-panel foam air filter; full long range tank; top quality components used throughout! This bike isn't just stunning to look at, it's built to ride. Furnished with original rare rack accessory, many vintage decals and el tigre saddle. One-off speedometer el nave. No expense spared on this machine!
OWNER RETURNING TO SPAIN, HENCE SALE.