1964 Honda Pushrod C200 87cc
View on eBay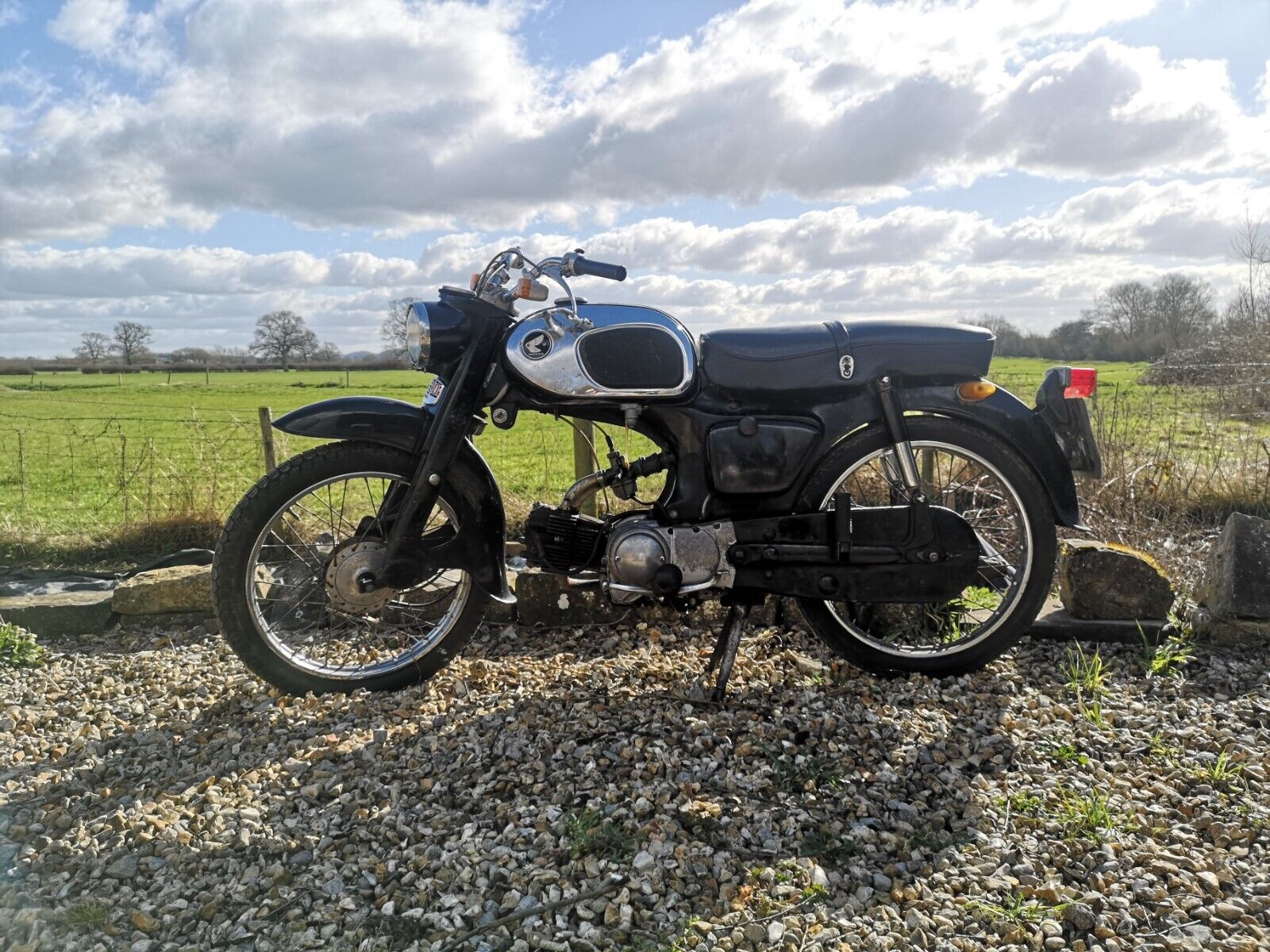 1964 Honda Pushrod C200 87cc

The C200 is a delightful and agile motorcycle that is easy to ride and highly reliable. This used bike is in good working condition, starting up smoothly and running well. It was recently refurbished, so all the parts are in excellent condition. The seat has been repaired with metal straps due to rust damage, and there is some rust on the exhaust and a damaged rear number plate, but otherwise, the bike is in good condition.
Engine: The Honda 87 cc (49 x 46 mm) ohv single engine has a crankshaft supported by journal ball bearings and a caged roller big-end bearing. It features a cast-iron cylinder head and barrel, with a compression ratio of 8 to 1.
Carburation: The bike is equipped with a Keihin PWI8HA carburettor with a direct shutter for cold starting.
Electrical Equipment: The bike has an AC generator and coil ignition with a six-amp-hour battery charged through a selenium rectifier. The headlamp is approximately 5.5 inches in diameter with a 25/25-watt main bulb. It also has flashing indicators and a neutral indicator light.
Transmission: The bike features a four-speed gearbox in unit with the engine, with a rocking-pedal foot control. Gear ratios are bottom: 25.2, second: 16, third: 11.8, and top: 9.51 to 1. The bike has a multi-plate clutch, primary drive by spur gears, and a rear chain enclosed in a pressed-steel case. The engine rpm at 30 mph in top gear is 4,400.
Fuel Capacity: The bike has a fuel capacity of approximately 1.9 gallons.
Brakes: Both the front and rear brakes are approximately 5 inches in diameter and have finger adjusters.
Suspension: The bike has hydraulically damped pivoted front and rear forks for suspension.
Dimensions: The bike has a wheelbase of 47 inches, ground clearance of 7 inches, and a seat height of 30 inches, all unladen.
Weight: The bike weighs 115 pounds when fully equipped and with approximately one gallon of petrol.
Maximum Speed: The bike can reach a maximum speed of 53 mph with a following wind, and 51 mph as an average of runs in both directions.
Fuel Efficiency: The bike gets 175 mpg at 30 mph and 112 mpg at 40 mph.
eBay item number: 325577101108