1962 Ducati 250 Daytona Single Bevel Narrow Case (Diana)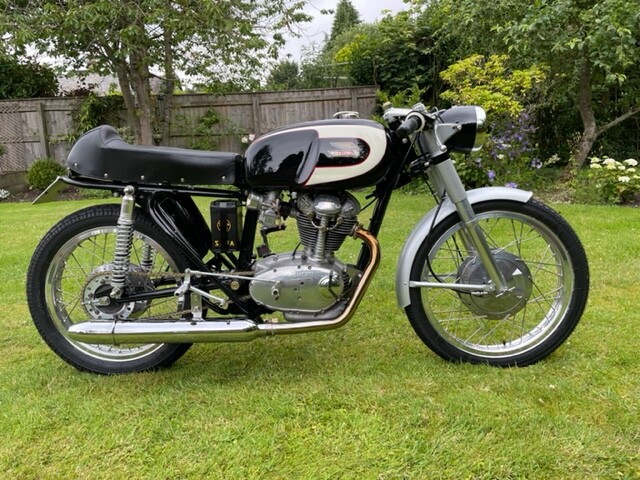 1962 Ducati 250 Daytona Single Bevel Narrow Case (Diana)
1962 Ducati 250 Daytona (known as Diana in Europe). A very early build with frame number DM250* 80086* IGM. First registered on 15/01/1962 to John Surtees Ltd, Kent. Paperwork confirming this from Kent County Council included.
As well as being the very successful Motorcycle and F1 racer, Mr Surtees OBE also sold motorcycles from his shop in Kent, however I can find no record of him ever selling Ducati's.
I did find one tantalising piece of info online – During 1962, when Mr Surtees had transferred from racing motorcycles to racing cars, he was approached by Ducati who wanted him to return to motorcycle racing and ride for them. I can only assume that this bike was part of a sweetener?
The bike went through a complete strip down and re-built in 2015/ 2016 to the following standard:
Engine:
Fast Road spec Engine, which was built as close to being Race Spec as possible, whilst still retaining the ability to ride on the road and be reliable.
The Crankshaft was sent to Lacey Ducati who stripped and rebuilt it complete with a new Big End bearing and Arrow 'race' Con-rod. They also supplied a new Omega 'Road' piston (Mach 1 spec).
Cylinder head went to SCR Classic who performed a big valve conversion, ported and flowed the cylinder head, matched the new inlet manifold to the head and converted the valve springs to Double Coil Spring type – all parts came from Lacey Ducati.
Cylinder bored and honed to match new Piston.
Camshaft reground to 'Green and White' spec (popular period racer conversion) and followers re-dressed.
Brand new Mikuni VM32 Carburettor, set-up on a rolling road in Northampton.
The Engine was built by an ex CRMC Ducati 250 Season Champion, it was built to an extremely high standard and has been flawless in the 600 miles that its covered since. The engine was set-up on the rolling road at 'Rhodes and Track' with 21BHP at the wheel equating to approx 26 BHP at the crank. The engine continues building power up to just over 8000 RPM, where the power levels out. It could be tuned for more top end, but this would detract from the very usable engine characteristics on the road.
Silentium style and Conti style rear silencer included.
Chassis:
Subframe shortened by approx 2″.
Additional frame bracing around rear engine mount.
Additional bracing at axle end of swingarm.
Extension of swingarm pivot pin to tie the frame spine, swingarm and subframe together. Addition of pivot pin grease nipples.
The above modifications are well known period enhancements to the Narrowcase frame and look authentic – if I didn't say they were there, most wouldn't notice.
NJB Rear shocks are classic race spec, sprung and valved to my weight (80kg), Aluminium and Steel types included (see photos).
Forks are rebuilt – the stanchions are the original Ducati Items, they have been checked for straightness, re-hard chromed and ground back to spec.
Ducati 748 steering damper fitted.
Wheels are rebuilt on period style flanged alloy rims (front Borrani, rear pattern) shod with new classic style tyres.
Completely road legal lighting, including brake light.
12v conversion.
'Classic' Rearsets fitted.
Paintwork by 'Flakey Dave' – the tank is based on the original design, but with a colour change. Before it was sent for paint it was stripped back to bare metal and acid dipped, so pristine inside.
Only 5 previous owners to me. The first 3 owners had the bike from 1962 to 2014. Owner number 4 did the complete strip and re-build, had the bike MOT'ed and tested it for 500miles before selling. Owner 5 didn't ride the bike, just kept it in a substantial outbuilding/ workshop. I have put approx 100 dry miles on the bike and keep it in a heated garage. The bike has had regular oil changes and is now registered as a Historic Vehicle so Tax is free and there is no requirement for an MOT. Speedo replaced so stated mileage is incorrect.
Post expires: 19-02-2023